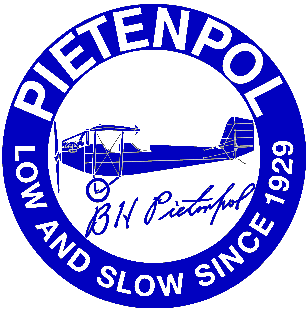 Welcome to our web site!

The Brodhead Pietenpol Association is the type-club group for owners, pilots, builders, and simply aficionados of the ubiquitous Pietenpol aircraft design. In 1929, young Bernard Pietenpol (Peet-n-pole) of Cherry Grove Minnesota, designed and built a two-seat open cockpit airplane powered with a Ford Model A automobile engine. The editors of Modern Mechanics magazine saw the airplane and published some working drawings in their magazine. It became a phenomenon, with airplanes being built in garages and barns across the country, builders getting their materials from local lumber mills. The Model A engine was cheap and easy to modify, and Pietenpols were the first real homebuilt personal airplanes to take to the skis in any number. After WWII, John Grega, an airplane mechanic in Bedford,Ohio, drew up plans for a Piet lookalike, using surplus Cub wings and landing gear. Today the Piets and Grega GN-1s fly side by side, using many different engines. The most popular are the Ford, Corvair and Continental.

It was only natural that in Ohio, where many Piets were being built and flown, that a club was formed called the Buckeye Pietenpol Association. The members started a quarterly newsletter in 1963 and had several excellent editors over the years. In 2000, with the site of the largest annual Pietenpol fly-in firmly established in tiny Brodhead, Wisconsin, the name of the organization became the Brodhead Pietenpol Association. Both the organization and the newsletter carry on the same "homey" tradition today with their quarterly newsletters and annual reunion fly-ins.

There is a certain charisma and charm wherever a Pietenpol shows up. With a continuous history since 1929, the airplane is unique and so are the people. First of all, it's a homebuilt project. The friendliness of Pietenpol people is legendary, but what would you expect when everyone starts with a back home type smile? The Piet just seems to do that to people.
Here is a copy of the front page from the most recent issue of the Brodhead Pietenpol Association newsletter: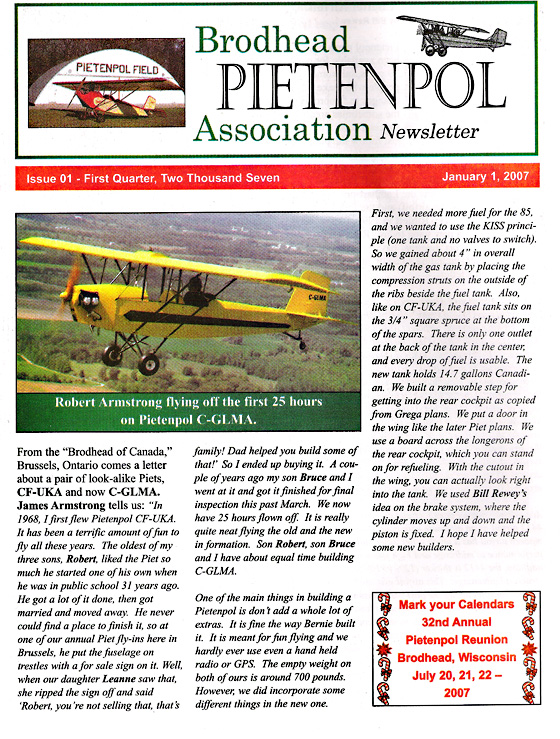 BPA Newsletter subscriptions:

1 year USA - $16.00
2 year USA - $30.00
1 year Canada/Mexico - $18.00
Back Issues - $4.00 each (Identify which ones)

Other countries or USA 1st Class Mail - $22.00

Make all checks payable to BPA and mail to:
Brodhead Pietenpol Association
% The Independent Register
PO Box 255
Brodhead, WI 53520-0255

All editoral material should be directed to:
BPA
PO Box 3501
Oshkosh, WI 54901

Email: bpa@tds.net
Fax: 1-920-886-3575
Web: pietenpols.org