The name Tiedtböhlen originated in Sweden in the 17th century. When King Gustavus Adolphus came south from Sweden to Pomerania during the Thirty Year's War, some of his soldiers were of this name. After the Swedish king fell in the battle of 1632, these "böhlens" remained along the Baltic Sea from Lübeck on the west to Stettin on the river Oder to the east. Through the long years this name was shortened to Tietböhl. The Tietböhl ancestors were mostly rural people: farmers, cattlemen, blacksmiths, and the like. One source indicates that the name "böhlen" is equivalent to the German verb abharren meaning to remove hair from or a tannery worker. In 1720 part of Pomerania was added to Prussia by King Frederick William I, father of Frederick the Great. In 1815 all of Pomerania became part of Prussia when the old Swedish territory was annexed. By the mid 1800's the agricultural lands were taken by princes, dukes, and other nobility leaving the farmers in poverty and servitude. Falling grain prices through cheap imports by steamship from America caused unrest among the farmers. Failing farms forced rural populations into the cities where children were reared under unspeakable living conditions. King William I was also building his army by conscription, notably for the Franco- Prussian War of 1870-1871 and after. Word spread in Germany about peaceful living and good jobs to be had for the asking in America. Joachim Tietböhl was born May 13, 1815 . He married Wilhelmina Wischmann born 1820, died in Demmin, Pommern ( Prussia ) about 1872. According to family tradition, Wilhelmina was of the nobility her father being a Prussian Cavalry officer. She was reserved for a person of higher rank. When she married Joachim, they were disowned because he was a farmer of common blood. Of the union of Joachim and Wilhelmina came seven children all born in Kreis Demmin: Charles, Frederica, William, Lena , Frederick, Amelia, and August. All but Lena are known to have immigrated to America. With the immigration of family members came documentation to verify their names and history. A photocopy of the ship's passenger manifest shows that Joachim and the two youngest children Amelia and August traveled together to this country. These three departed the free port of Hamburg on September 25, 1881. They sailed on the S.S. Silesia with Ship's Master A. Albers, Captain.
Departure

Hamburg , Germany. Archival information.
This is a photo copy of the original Direct Passenger Index from Hamburg Germany . It is alphabetical and shows the name Joachim Tietböhl on line 1518 under the Ship Silesia with Capt Albers as ships master. Voyage # 80 on 25 September 1881 (departure) is referenced. On Feb. 1966 Peter Kennemann of Dortmund , Germany translated the information immediately beneath the notation: Tietböhl, Joachim is with l daughter and 1 son.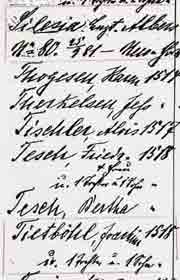 Reference: Register zu dan Auswanderlisten (Direct Passenger Index) Vol. viii a-2, Band 17 (2 mai-23 nov 1881), Staatsarchiv Hamburg. Microfilmed by LDS 12 Jun 1964 .
This ship docked at the Port of

New York on October 10, 1881. The full passenger complement was 926, all in steerage. Steerage being basically equivalent to a floating cattle car with a single fare about $10. The Tietböhls were all listed as "farmers from Prussia."
DISTRICT OF NEW YORK, PORT OF NEW YORK
I, A. Albers, Master of the German SS Silesia do solemnly, sincerely and truly affirm that the following List or Manifest, subscribed by me, and now delivered by me to the Collector of the Customs of the Collection District of New York, is a full and perfect list of all the passengers taken on board of the said Silesia at Hamburg-Havre from which port said Silesia has now arrived; and that on said list is truly designated the age, the sex, and the occupation of each of said passengers, the part of the vessel occupied by each during the passage, the country to which each belongs, and also the country of which it is intended by each to become an inhabitant, and that said List or Manifest truly acts forth the number of said passengers who have died on said voyage, and the names and ages of those who died. So help me God. Sworn to this 10 Oct 1881 (signed) RHousnup? So help me God. Signed A. Albers. List or Manifest of all the Passengers taken on board the SS Silesia whereof A. Albers is Master from Hamburg-Havre burthen _____tons.
Columns represents, names, ages, sex, occupation and country to which each belongs. All 926 Steerage passengers listed United States as their destination.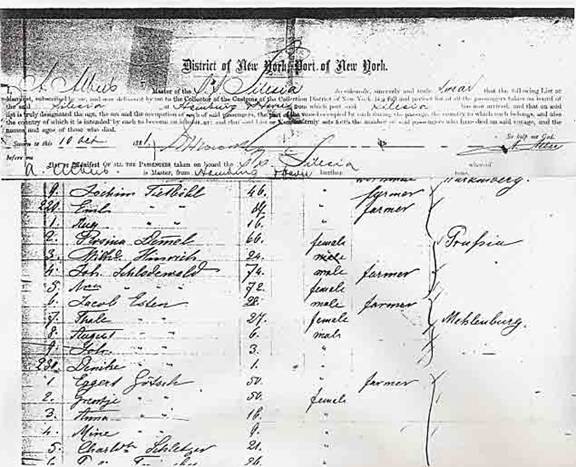 This is the source document for the arrival of Joachim, Emilie (Amelia) and August Tietböhl in the Port of New York on October 10, 1881 . Interestingly, when the family left Hamburg , Germany Emilie was listed on the ship's papers as female. However the New York documents show her as a male. It was well known in Germany by 1881 that immigrants who were old and sick rather than young and strong would be sent back to Germany on the next ship. Young girls were disguised as boys in an attempt to avoid molestation and ages were exaggerated as well.
Note lines 219, 220 and 221 for Joachim, Emilie (Amelia) and Aug. (August) Tietböhl. They were Farmers from
Prussia
.
Reference: National Archives,
Port
of
New York
Incoming Passenger Lists, (14 Sep-
10 Oct 1881.) Arrival of S.S. Silesia,
10 Oct 1881
. Lines 219, 220, 221.
S.S. Silesia: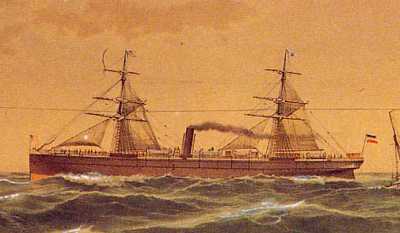 The steamship

SILESIA --the first of two steamships of this name owned by the Hamburg-America Line--was built by Caird & Co, Greenock (ship #150), and launched on 14 April 1869 . 3,142 tons; straight bow, 1 funnel, 2 masts; iron construction, screw propulsion (single-expansion engines), service speed 12 knots; accommodation for 90 passengers in 1st class, 120 in 2nd class, and 520 in steerage; crew of 120. Captain: A. Albers. Voyages in 1881: 8 round trips Hamburg to New York , all steerage passengers. After numerous owners she was renamed MONTEVIDEO and on 2 December 1899, wrecked off Lobos Island, on the River de la Plata in South America.
After processing through Castle Gardens the three immigrants settled in Williamsport , PA. For many years there was a steady stream of German settlers into Pennsylvania. Settlements got started between the Susquehanna and Delaware Rivers around fast- growing Philadelphia. As time passed, the newcomers moved west and north. Pennsylvania was the "promised land" due to liberal terms for land purchase, religious tolerance, existing German settlements, a countryside that looked a lot like Germany and a favorable economy.
August (1864-1941) was nearly 17 years old when he arrived from Germany. The 1900 census identifies him as Augustus W. from Pomerania. He and Sophie Völschow (1870-1934) were married and living in Williamsport PA. He was an insurance salesman. Five children were living at home: William, Frederick J. Sr., Augustus, Charles, and Ralph. Irene and Leroy were yet to come. Joachim remains a "shadow figure" because few details about his life are known. He never became a citizen of this country, didn't speak English and there is no record of his having had a will or his death recorded. He died in 1901 and is buried in Williamsport, PA.
Frederick J. Sr. (1887-1956) married Anna A. Auchmuty (1888-1953)

June 4, 1910. They had seven children: Frederick J. II, Ruth, Viola, Mae, Pauline, June, and Cleo.
Augustus and his sons established a family restaurant business in

Williamsport that lasted from 1915 to 1968. At one time the family was engaged in rental real estate as well as the Day and Night Restaurant.
Frederick J. II (1911-1996) married Mary E. Kilmer Miller (1910-2000). With the closure of the family business Frederick J. II became a painting and decorating contractor. Mary E. was a school teacher. Three children were born: Frederick J. III, Richard J., and Susan M. Frederick J. III was an Air Force Officer, Richard a school teacher and Susan lives at home. Frederick III married Ruby A. Holyfield (1935-2003.).

-